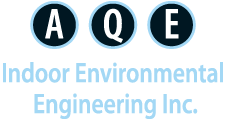 Toronto --- Barrie --- Peterborough
Head Office:
144 Langden Avenue
Toronto, Ontario
Canada M6N 2L5



phone (416) 658-5945
Toll free
1-877-658-5945


fax (416) 658-8852
Toll free
1-877-658-1771


AQE Indoor Environmental Engineering Inc.

is a comprehensive environmental, air quality, health and safety consulting engineering company.
We provide cost effective solutions in four air quality related areas:
Indoor Air Quality
Occupational Health and Safety
Mould, Asbestos, and Hazardous Materials Assessments
Ventilation Assessments and Air Sampling

AQE has extensive Environmental, Air Quality, Health and Safety consulting experience. To enquire about how AQE can meet your Environmental, Air Quality, Health and Safety needs, please contact us at (416) 658-5945, 1-877-658-5945, or .
Certifications
AQE holds a Certificate of Authorization and is licensed by the Association of Professional Engineers of Ontario (PEO). A Certificate of Authorization is a license issued by PEO to allow individuals and business entities to offer and provide professional engineering services to the public.
Any work carried out by AQE is conducted in strict conformance with applicable health and safety regulatory requirements. AQE's licensed professional engineers will carry out or directly supervise all assessments done by AQE.
Affiliations
AQE has affiliations with many Engineering, Air Quality, Facility Management, Health and Safety Associations throughout Canada and the United States.
Affiliations include:
Ontario Society of Professional Engineers (OSPE)
Association of Professional Engineers of Ontario (PEO)
Environmental Engineers & Managers Institute (EEMI)
American Association of Energy Engineers (AEE)
American Society of Heating, Refrigerating and Air-Conditioning Engineers (ASHRAE)
American Conference of Governmental Industrial Hygienists (ACGIH)
American Indoor Air Quality Council
American Facility Managers Institute (FMI)
International Occupational Hygiene Association (IOHA)
AQE also has alliances with laboratories, equipment providers and other consultants across Canada. These alliances add to AQE's multi-disciplinary approach and ensure that equipment and laboratory services are cost effective.